Go-to-Market Plan
Commercializing a Product or a Service | Creating a business model | Multidisciplinary team skills | Problem Solving | Prototyping and Testing | Working life challenges
Learn how to create an implementable go-to-market plan for a product or a service – in a sustainable way! In Go-to-Market Plan you work with a team and partner.
Go-to-Market Plan is an 8-week sprint where you will develop ideas from experiment to a concrete and sustainable launching plan – to create value and impact. You will co-operate and work in a multidisciplinary team together with the idea creator/owner.
An implementable go-to-market -plan for a service or a product
This course focuses on real life cases – you will co-operate and work closely with your multidisciplinary team and a partner who can be a company or a team of researchers. The methods and tools of this course support sustainable business creation from economic, social and environmental perspective.
Systemic learning
The figure below illustrates the systemic learning used in HUBS studies. In this course, you will not listen passively to lectures, but will produce information, experiment and learn by acting for yourself!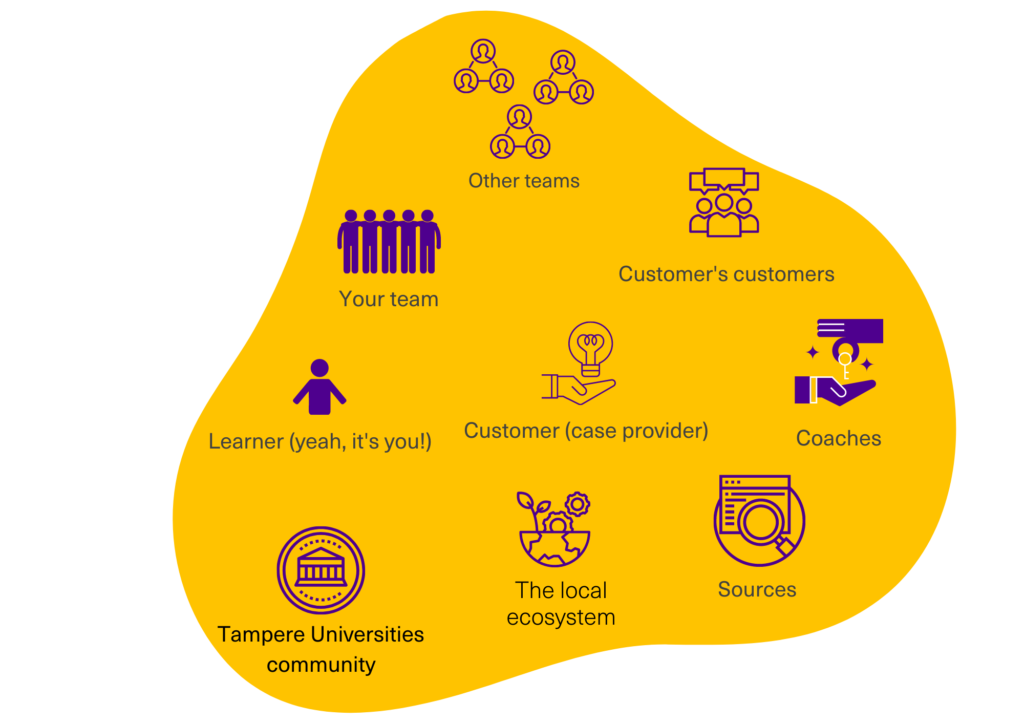 This course focuses on real life cases. The program supports moving from experiment phase to commercialization phase:
How to turn an idea to create multifaceted value?
Customer centric idea development: learning quickly from success and failures
How to use digital platforms/tools to evaluate the idea and creating sustainable business?
Modern sales and marketing
A facilitated process
The program is facilitated by a commercialization coach. The process is:
1) new information
2) active dialogue
3) explorations
4) summarizing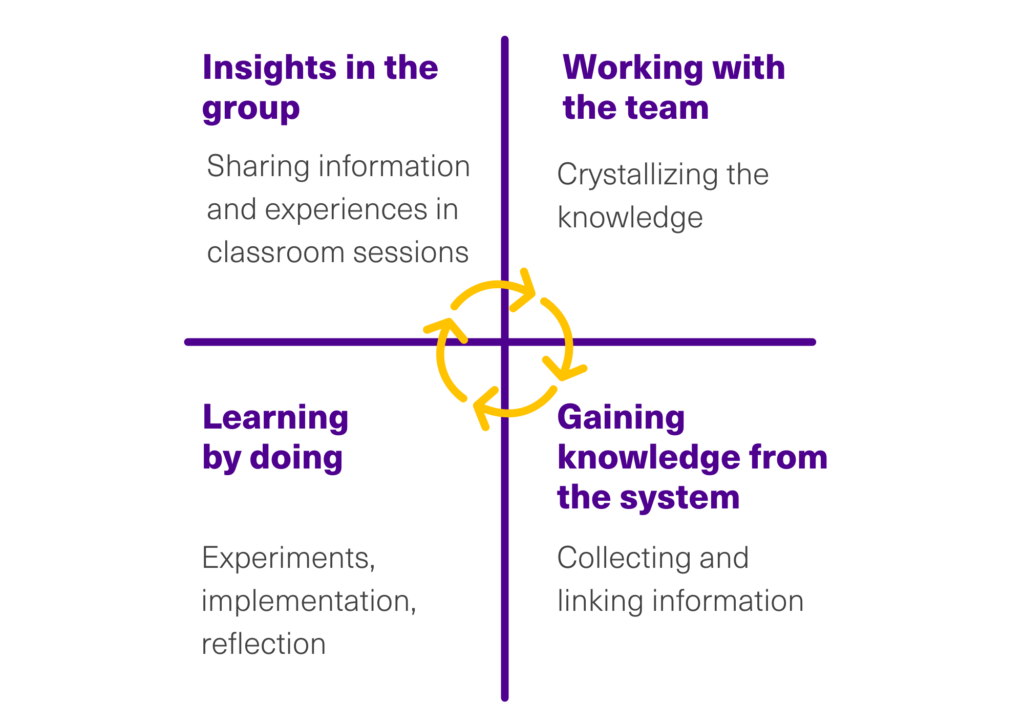 The development cycle is based, where applicable, Scrum and Lean Startup methodologies, TAMK Proakatamia's model of team learning as well as Massachusetts Institute of Technology's (MIT) Disciplined Entrepreneurship framework.
The outcome of this course is a concrete and implementable go-to-market plan.
After Go-to-Market -plan course you:
understand the different phases in a commercialization process
can apply knowledge and modern business development tools
can use lean methodology and customer centricity for a launch plan
can work together in a multidisciplinary team and co-operate with others to develop ideas and turn them into action
can develop your resilience, creativity and self-leadership skills as well as co-operation and networking skills
can identify ideas and opportunities and seize/apply them to a launch plan
can assess the consequences and impact of ideas, opportunities and actions
During the course 24.10-12.12.2022 we'll have joint coaching sessions on Mondays at 12:15-16:00 on TAU City Centre campus, room A05.
Please note!
During Sprint Innovation Festival 7.-11.11.2022 we won't have a joint session. You are very welcome to join Sprint Innovation Festival, read more and enroll here.
Approved when you have demonstrated commitment and productivity in 8-week sprint. You can do it by showing to understand the assignment, being capable to provide ideas, seeking for solutions and making a presentation that is understandable to the team. You can run an experiment to the business idea and can independently describe the occurred commercialization process, its phases and outcome.
Failed if you cannot describe what was done during the commercialization process, its phases, methods and outcome. You have not gained the knowledge required to run a commercialization project.
We recommend taking the Introduction to Entrepreneurship course or having similar knowledge before registering to this course.
Partners and cases
Do you want to be part of developing future solutions for health and wellbeing? Brightlife is an online platform designed to help therapists with their daily tasks. The tools currently used by therapists are scattered, and they typically must pay for several different services to handle the work. Brightlife combines all these services into a comprehensive digital service which automates a large part of the work outside of nursing.
At the beginning of October Brightlife launches the first version of the service for a limited number of test customers, combining customer management, invoicing, remote access, and monitoring of care in a secure environment. The main launch is scheduled for the beginning of 2023.
Help Brightlife to develop new ideas for a going-to-market plan and for the main launch's marketing and sales.
Are you interested in creating opportunities for a startup utilizing 3D scanning and viewing?
"At FuVis, we look at the world around us. We admire its beauty and then we capture it! Scanning the world is our passion, and we make 3D viewing of locations and objects easy. We provide custom high quality, high accuracy 3D scans of buildings, locations, and objects. The possibilities with this solution are endless. Welcome to the future!"
With FuVis services it is possible to build entire 3D worlds for your game or film or turn a 2D catalog from your online store into a fully interactive 3D scan of your inventory. It enables to showcase real-estate to potential customers with an eye-catching virtual tour, and even embed the 3D scan of a whole building into your BIM (Building Information Modelling) workflow.
Help FuVis to make a go-to-market plan targeting especially real estate business and e-commerce.
Link to a 3D scanned object: https://skfb.ly/oxO6O
Link to a 3D scanned space: https://my.matterport.com/show/?m=TTNaWHVDeqC
Are you concerned about the future of small villages and municipalities? Wikivillage is a digital platform helping local communities to rediscover themselves. Your help is needed to stop the negative development and start moving towards a better functioning future. As a student, also you can make a difference in the development of local communities.
Help Wikivillage to make a go-to-market plan and discover how to reach the pioneering users to the new web platform: www.wikivillage.org
Take a look at a village which is currently under construction at Wikivillage:
Course information
Credits: 5 ects
Course code: NN00FP48-3003
Study method: Team work
Experience level: Practice your skills
Location: City Centre
Date: 24.10.–12.12.2022
Period: 2 / 2022-2023
Enrollment: 1.5.–9.10.2022
Organizer: HUBS
Contact person
Contact person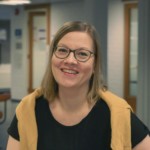 Maria Ruokonen
Team coaching Specialist
I coach and spar students and student teams in entrepreneurship and team learning, both on HUBS courses and on Sparring Clinic.
On my spare time, I'm most probably at the flamenco peña, on yoga mat or in forest.
Coaches
Contact person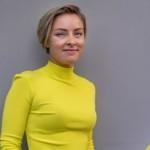 Kaisa Kokko
Coach
Experienced specialist in customer-oriented business and personnel development. Inspiring coach who believes in co-creation, culture of experimentation and design thinking.
Definitely the trip – not always the destination.
Contact person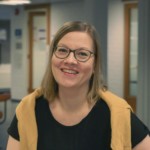 Maria Ruokonen
Team coaching Specialist
I coach and spar students and student teams in entrepreneurship and team learning, both on HUBS courses and on Sparring Clinic.
On my spare time, I'm most probably at the flamenco peña, on yoga mat or in forest.