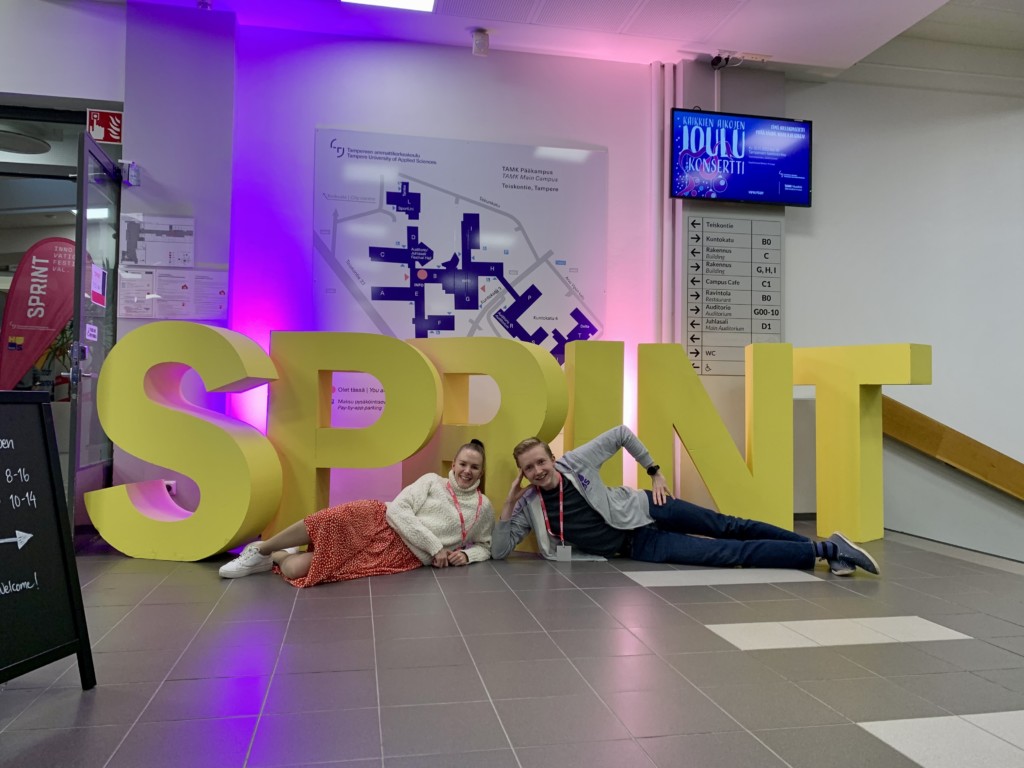 Sprint created a spark – a new coach's journey at Sprint Innovation Festival
Sprint Innovation Festival was held for the tenth time in November 2022. What did a first-time coach, Noora Markkanen, think about the event?
Contact person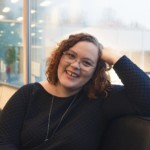 Saara Eriksson
Development Specialist, Project Manager @Sprint
Tarinan toinen kirjoittaja on Sprintin päävalmentaja Kaisa Kokko.
Nooraa haastatteli Saara helmikuussa 2023, kolme kuukautta Sprint Innovation Festivalin jälkeen.
Sprint Innovation Festival is a fast-paced innovation week and it has been organized in various forms at Tampere Universities for the past ten years. In 2022, after two years of online implementation, the event went hybrid. Most of the students worked on 11 of the Sprint challenges on campus, but four challenges provided an opportunity for both students and partners to participate online.
In 2022, we carried out a pedagogical reform in Sprint. In the 11 campus challenges, we mixed teams into coaching groups so that each coach had student teams from different challenges. With this solution, we aimed to enable peer learning between student teams and to focus the coaches' role even more strongly on coaching regardless of the challenge. The role of a coach is to support, spar and give insight to student teams when they are working on a solution for the challenge – the coach does not have to be an expert in the field of the challenge.
In the online challenges, coaches coached teams with the same challenge as this was perceived as a clearer way of online implementation for practical reasons.
Team at the heart of coaching
At the heart of coaching is the team, a coach helps the team harness their competence and potential. Here, the role of the coach is primarily to listen, make observations and ask open-ended questions. The goal is to assist the team to clarify, prioritize or expand their own thinking as the situation requires.
The Sprint coaching team included both veterans, who had been involved Sprint for a few years and new coaches joining the team for the first time! The coaches were given an orientation, a Sprint coach's guide, morning coffee meetings and a clear structure to supported coaches of different experience levels to help them succeed with their teams, during the event week. We interviewed Noora Markkanen about her Sprint experiences. Noora joined the Sprint team for the first time!
Spark from a colleague
Noora Markkanen got a spark for Sprint already a few years ago when her close colleague was involved in the event as a coach. Noora enjoys self-development and coaching in a huge event setting was tempting. When Noora was asked to join Sprint 2021 to judge pitches, the talk quickly turned to Sprint 2022 and it was agreed that Noora would join the coaching team the following year.
Noora Markkanen works at Tampere University of Applied Sciences as a project manager and lecturer in the School of Built Environment and Bioeconomy. Noora focuses especially on sustainability and circular economy.
Read more about Noora's coaching journey and insights on Sprint!
Expectations for Sprint
I participated in hackathons when I was younger, so I had some idea of what was to come. I was looking forward to the event week where I would get to witness the teams' development and hopefully see some amazing pitches.
Oh… – six teams?
I knew that the coach's job was to support the work of the teams, but I can honestly say that I was horrified when I heard that I was coaching 6 different teams at the same time, competing on different challenges. I was afraid that I would not be able to provide them with the support they needed. However, during the coach training, I realized that the coach does not have to be an expert in every case, but really focus on coaching. The Sprint week confirmed this was true.
Growing up as a coach
Coaching pedagogy supports my own understanding of how a person learns best. In my work, I try to utilize elements of coaching, but I am still in the early stages with this.
The support I received from the Sprint team regarding coaching was just amazing! The orientation held prior to the event combined with a comprehensive coach's guide and the morning coffees ensured that no coach was left alone with their methods or questions.
Great moments and challenging situations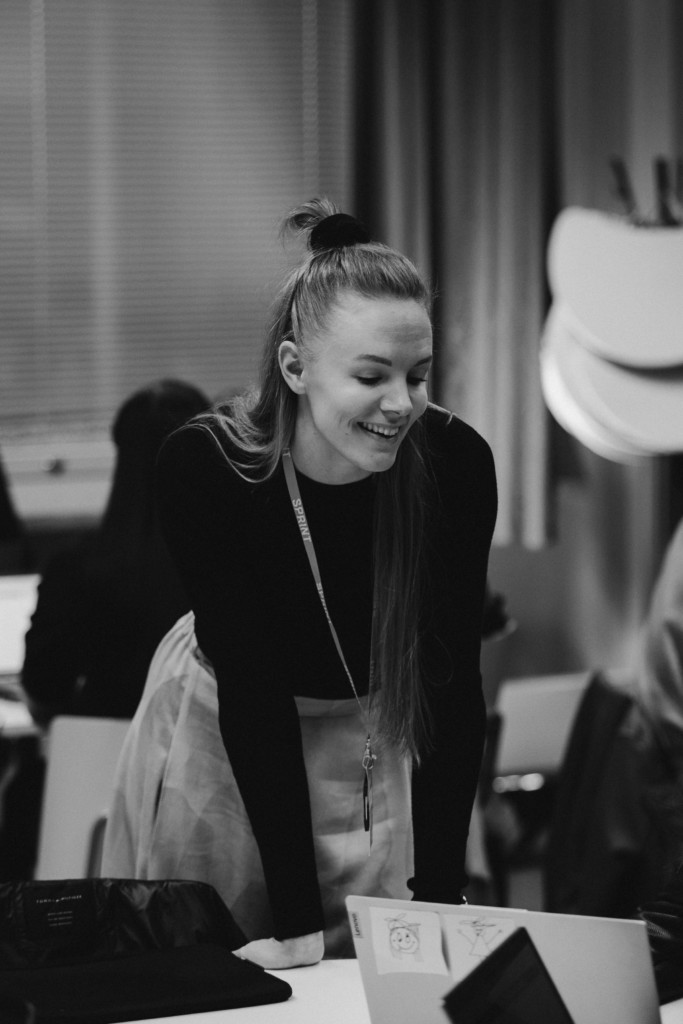 The week was the best working week of 2022! I enjoyed the professionally organized event immensely, the team of coaches pulling together and, of course, seeing the development and growth of the student teams. One of the greatest moments was witnessing the pitches of the student teams I coached and seeing the enthusiasm on their faces.
There were a lot of emotions in the week, and the mood of the teams changed during the days and work phases. For me, the most challenging thing was when, despite my best efforts, I saw a very potential team turn into a negative state of mind and it weakened their work. Fortunately, even in this situation, a fellow coach offered their help and came to talk to the team. After the discussion, the team got back to productive work.
Trusting the process
The experience was very instructive and my interest in coaching grew even more. I like to hold the threads in my hands, so it was a great experience to jump outside of my comfort zone and really trust that the process will bring progress, and the students will get great results, even though I stay in the background and don't interfere too much with the substance. It was easy to rely on a process that has been tested to work so many times and enjoy the journey itself.
I was so excited about the whole week that I didn't notice many areas of improvement. However, I noticed that the motivation of the students varied a lot, and it was easy to see for whom Sprint had been included as a part of their mandatory studies and who were involved in Sprint on a voluntary basis. Here, too, there naturally were individual variations. Since even one passive or negative student can weaken the team's activities, it might make sense to think about student selection criteria so that enthusiastic students get enthusiastic teammates.
A place of learning for both students and teachers
Would I recommend Sprint to students and other teachers? Definitely, a big yes! Sprint is a great opportunity for students to get to work on a genuine working life challenge in a multidisciplinary team and supporting environment. What better way to try your wings and network!
Sprint also offers an opportunity for professional growth to teachers interested in coaching. I jumped in as a beginner, but I can assure you that even a beginner in coaching can succeed alongside professional colleagues.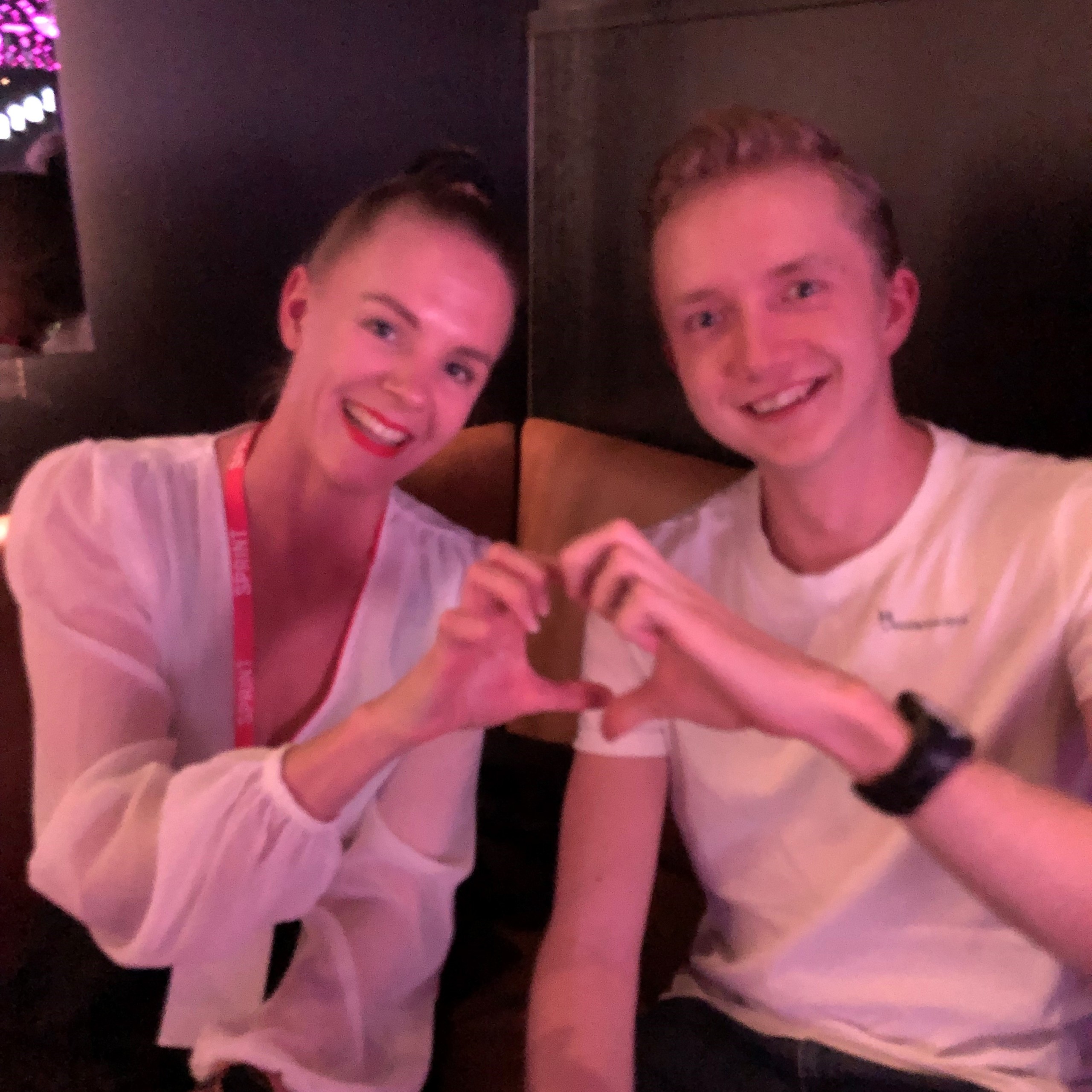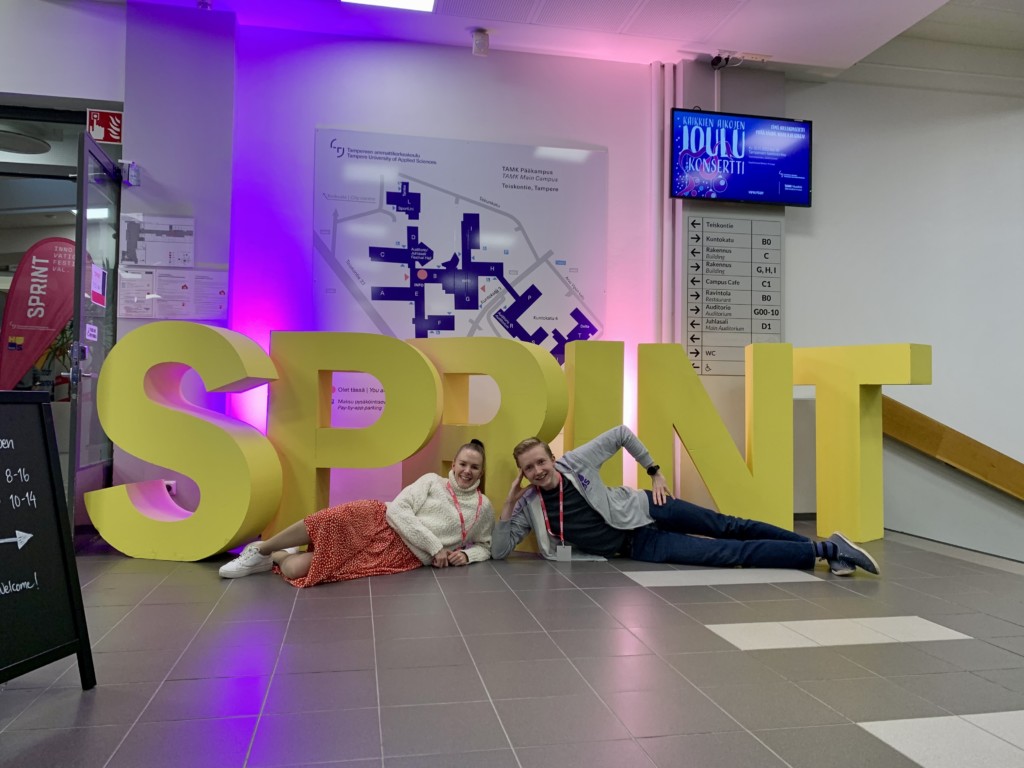 Stories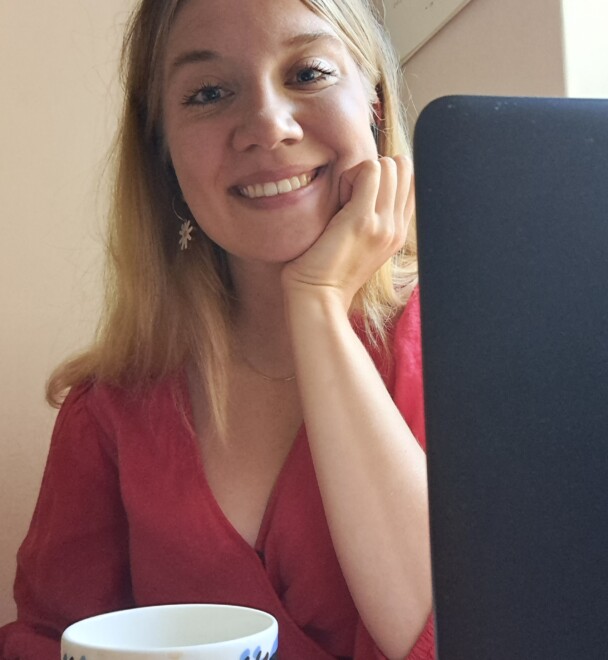 Ella has just founded her company, which offers onboarding services to companies. Read Ella's story from her first weeks as an entrepreneur!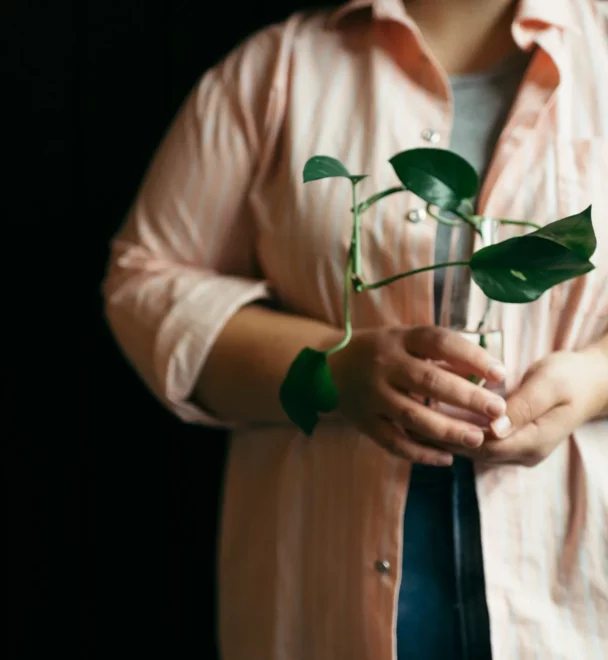 What's good about your job? Get to know what Jussi, Mona, Marianne & Minni think!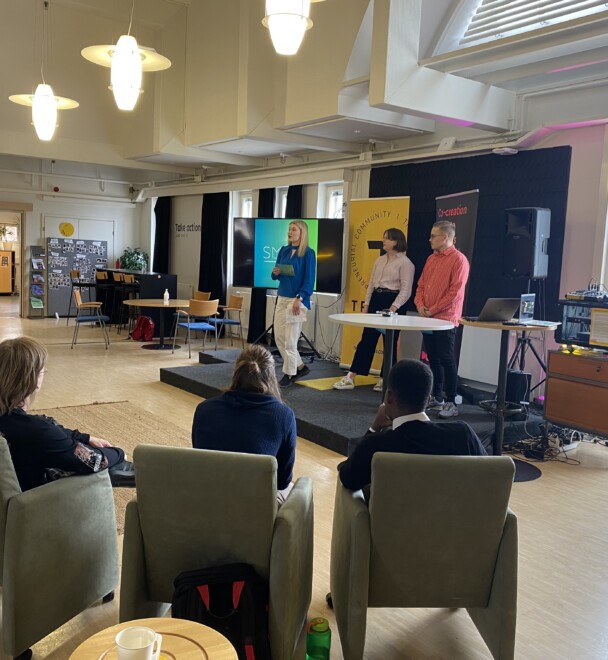 Get to know Pyry's and team Smårt's takeaways from HUBS' pre-incubator course!