The ABC of Entrepreneurial Finance
24H Online Library | Sustainable Entrepreneurship Studies
Would you like to understand the entrepreneurial finance and figures to succeed as an entrepreneur?
Join us to go through the most important calculations in the early stages of the company, the choice of company form and its effects, as well as tips for building sustainable business and choosing a good accounting firm. You don't have to know everything yourself! This course clearly covers the basics of an entrepreneur's finances, so it does not require previous financial knowledge.
The ABC of Entrepreneurial Finance course consists of three different sections and feedback
Choosing company form
Calculations
Taxation & YEL, Choosing & cooperating with accountant
The basic understanding of your company's finances
You master the basic indicators of economics
Ability to make decisions based on economical indicators
This is a non-stop course and you can enroll anytime you want. You will study independently in your own pace.
Approved when you have demonstrated successful work towards the learning outcomes: you understand the basics of entrepreneurial finance. You can assess your take your understanding of entrepreneurial finance into practise. You have completed the learning assignments in Moodle.
Failed if you have not succeeded in understanding basics of the entrepreneurial finance. You have not mastered the learning outcomes in a way that you could take your understanding of entrepreneurial finance into practise. You have not completed the learning assignments in Moodle.
You can start the course right away on Moodle. You don't have to wait to be accepted on the course, you can start studying when you want.
In order to get the credits, you also have to sign up officially in Pakki (TAMK Students) / Cross-Institutional Service (TAU Students). Please note that during the holiday seasons there are delays in the awarding of credits.
The course on Moodle
Key to sign up: ABC24
Welcome!
Course information
Credits: 1 ects
Course code: NN00FQ16-3002
Study method: Independent work
Experience level: Start with these
Location: Online
Date: Non-stop
Organizer: HUBS
Contact person
Contact person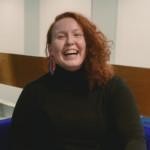 Sanna Tahlo
Producer
Producer and coach who loves people and is into team learning. My heart beats for exercise, learning, thinking and people.