Measuring the impact of your actions
24H Online Library
How do we know if our daily actions have a positive impact on our world?
This course provides an introduction into the realm of impact measurement. You will learn how to measure the emissions of your own daily actions and set new targets. Additionally, you will learn how to complete a basic impact assessment for a business or start-up.
At the end of the course you will have developed a solid understanding of your own emission, and how you may want to change daily routines and activities. You will also understand how to measure the impact of a business or start-up and set new impact targets for it.
This course is part of a set of online courses focused on sustainable entrepreneurship.
Other courses in this set include:
Note: it is not required to join all courses in this series. You can also enroll for just one course.
The course consists primarily of self-paced online learning. You will be guided through a series of short videos and learning exercises to achieve the learning outcomes.
During the course you will need track your own emissions over a few weeks and conduct field research into a business or start-up case.
After the course, you:
will be able to translate the sustainable development goals to your own life
will understand your own daily emissions and future goals respectively
will be able to develop a basic Theory of Change for a business or start- up case
Approved when you have demonstrated successful work towards the learning outcomes: you understand the basics of personal emission measurement and target setting. You can conduct a Theory of Change for a business or start-up. You have completed the learning assignments, which includes weekly emissions tracking and field research to complete your Theory of Change.
Failed if you have not succeeded in tracking or setting new targets for your emissions. You have not mastered the learning outcomes in a way that you can develop a Theory of Change using field research for a business or start-up.
Course information
Credits: 1 ects
Course code: NN00FL00-3002
Study method: Independent work
Experience level: Start with these
Location: Online
Date: Non-stop
Enrollment
This is a non-stop course and you can enroll anytime you want. You will study independently in your own pace.
TAMK students
Pakki + Course code NN00FL00-3002

TAU students
Cross-institutional service + Course code NN00FL003002
Contact person
Contact person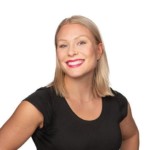 Minttu Ripatti
Coach
An expert in entrepreneurship and interaction and an idea-rich and creative coach. I encourage courage but also failure.
I get excited about enabling small insights in a humans path towards a bigger whole.
Coaches