Health Technology and Life Science Business
Commercializing a Product or a Service | Creating a business model | Design Thinking | Problem Solving | Strategic Thinking
This course is implemented together with Tampere University's Faculty of Medicine and Health Technology, Innovation Services, HUBS and SPARK Finland. Read more about this course here.
Blended learning sessions are organised on Mondays at 16.00-18.00 between 4 September – 11 December 2023. The learning sessions take place at TAU Arvo A210 + A211 and A207 + A209 (Arvo Ylpön katu 34, Tampere).
Course information
Credits: 5 ects
Course code: BBT.MJS.141
Study method: Mixed: independent and team work
Experience level: Practice your skills
Location: TAU, Arvo
Date: 4.9.–11.12.2023
Period: 1-2
Enrollment: 1.8.–25.8.2023
Organizer: Tampere University
Contact person
Contact person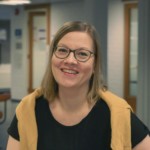 Maria Ruokonen
Team coaching Specialist
I coach and spar students and student teams in entrepreneurship and team learning, both on HUBS courses and on Sparring Clinic.
On my spare time, I'm most probably at the flamenco peña, on yoga mat or in forest.