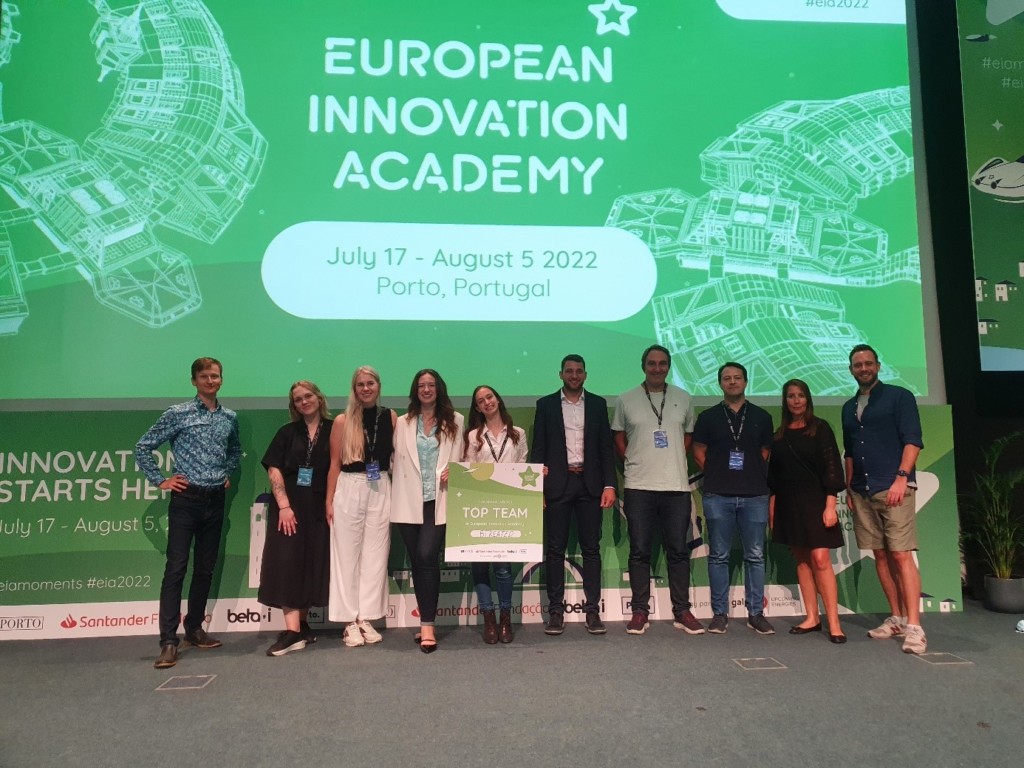 Dream team work in Portugal
In 2020, right before Corona started, I applied for a scholarship through HUBS to participate at the European Innovation Academy. A few months before the event, we got the email that it would be postponed. And here we are, two years later.
I was sitting in front of my computer at the beginning of March when I got an email that started: "Hey, Are you still interested in EIA 2022 program in Portugal? Would you be interested in joining this summer?"
And this is how it started…
About EIA and teaming up
European Innovation Academy is where five hundred students from top universities come to learn more about Startups for two weeks. They learn how to build a company, and how to make it from scratch into an existing business idea that can be presented to a group of Investors at the end of the event.
Before the actual event started in Porto, we had a pre-week, where we had the opportunity to connect with other participants create teams, present our ideas, or join an idea. Few teams were already formed at this part, but most of us had a team just on the first day. From the first moment, it was emphasized that the team is more important than the idea. For a long time, I did not fully understand it. For me, it was simple, the best idea wins.
And the learning process started already here. We were walking around the garden, where we had small stands for team creation, many different ideas, and many different people with diverse backgrounds. In the end, everybody had a team (so no worries, nobody was left behind).
Getting towards innovating
There was a rule that the teams should be as diverse as possible, and I ended up being with Aleksandra from Poland, Catarina and Joana from Portugal, and Laura from Chile. Our idea was fashion related, a dress where one size fits all. It was very challenging for me; hence I have no clue about fashion, and I wear what I feel comfortable in.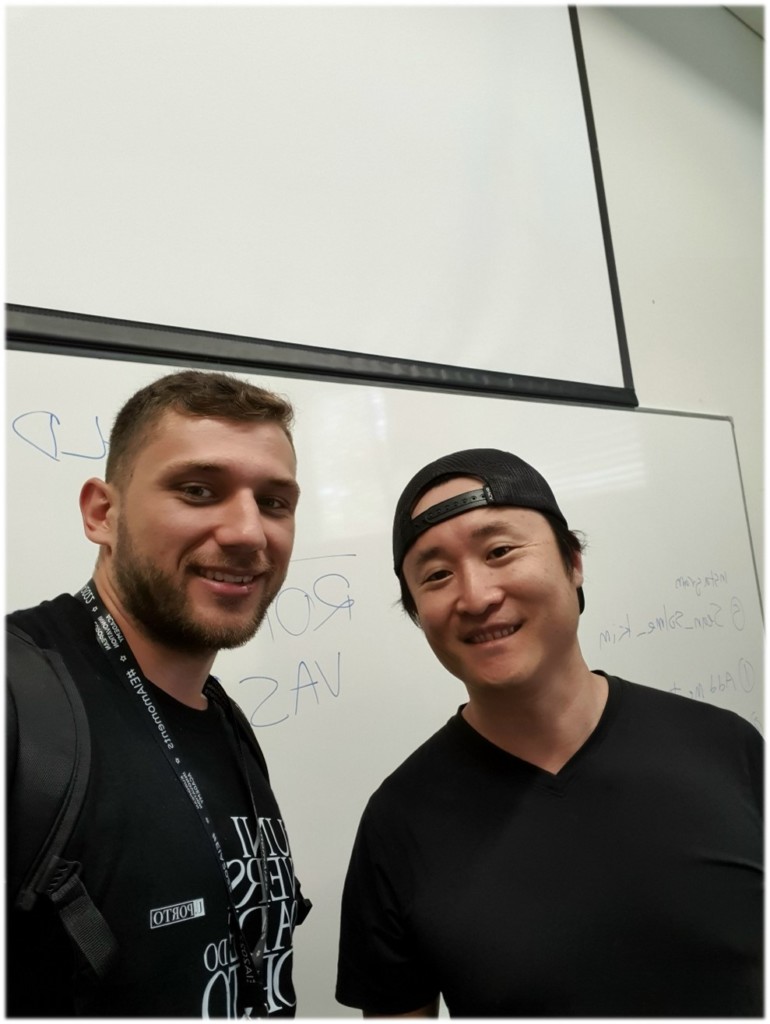 From day to day, we had amazing speakers with incredible backgrounds like Pavlo Pedenko, Kameel Vohra, Reagan Fry or Sean (Some) Kim, and many others. Every day we learned so much about business, teamwork, and ourselves.
The goal for the first week was to have an identified problem, a solution, and a target group for that and to try to validate the idea. The second week was exciting because of many reasons:
Validate the idea if you have not done it yet
Build a prototype
Work out the more minor details
Get ready for the last week to pitch the idea
However, for my team, it was a bit different. During one of our mentor meetings, Kristina McMenamin came up with valid points that we could not overcome those issues and questions. Two weeks of our work were "destroyed" in 10 mins. Eventually, this was the best thing that could have happened to us without any irony.
But why do I say that?
Coming over difficulties
Why loosing two weeks of brainstorming, finding a problem, figuring out a solution, doing long days of researching and analyzing the market, interviewing different people and collecting data from our surveys, using hours of private mentoring on this specific problem, working on the business plan and design, thinking about the marketing plan and many other different aspects and details are good?
Because it's a learning process, we learn from our mistakes. We gain experience. This event is all about this. Here you learn by doing; the knowledge and advice you get from the mentors, the way of thinking, and the support you give and get from your teammates and friends will be part of your life even after the event.
But let's go back for a second. So there we are after two weeks, without an idea, without a ready plan, and in less than a week, we have to stand in front of investors and pitch our idea. We are screwed. This was when we understood why they emphasized so much at the beginning "the team is the important, not the idea."
One member decided to leave the team and work on her own idea. The rest of us sat down and started talking about why we were here, our motivation, and what we should do now.
The brainstorming
It was Thursday afternoon. The weekend was coming, and we had a lot of things to do, but first we had to go back to day one. So, we sat down and started to talk about ourselves, who we are, why we are here and what is our motivation just to be sure that we really want to do it. It was interesting that even after 2 weeks we still had a lot to share and learn about the others. Then the most important part was coming.

Lets find a problem! Its important that we are not trying to come up with something as a solution and then create a problem for that because maybe it does not even exist. So, we started to think what kind of problems, difficulties we have in our lives and how we can match our skills with that.
One of us mentioned during the conversation that at the young age got a lot of injuries and had some surgeries where the wound got infected. Its so bad that we don't see early enough if a wound is infected. Then Catharina said that they are working now in a lab where they use an indicator in food packaging to see if during the process everything went fine and there are no harmful bacteria in the food. And BOOOOM! What if we try to indicate early wound infection on a visible way for everyday life.
Lets create a bandage that changes color when the wound is infected.
The team dynamic was good from the beginning and when we decided to do a quick brainstorm and do three weeks of work in one week was just amazing. Six days later, we practiced the pitch late in the evening to be ready for the morning to pitch to the investors. Furthermore, we were chosen as one of the event's top teams out of 100 teams.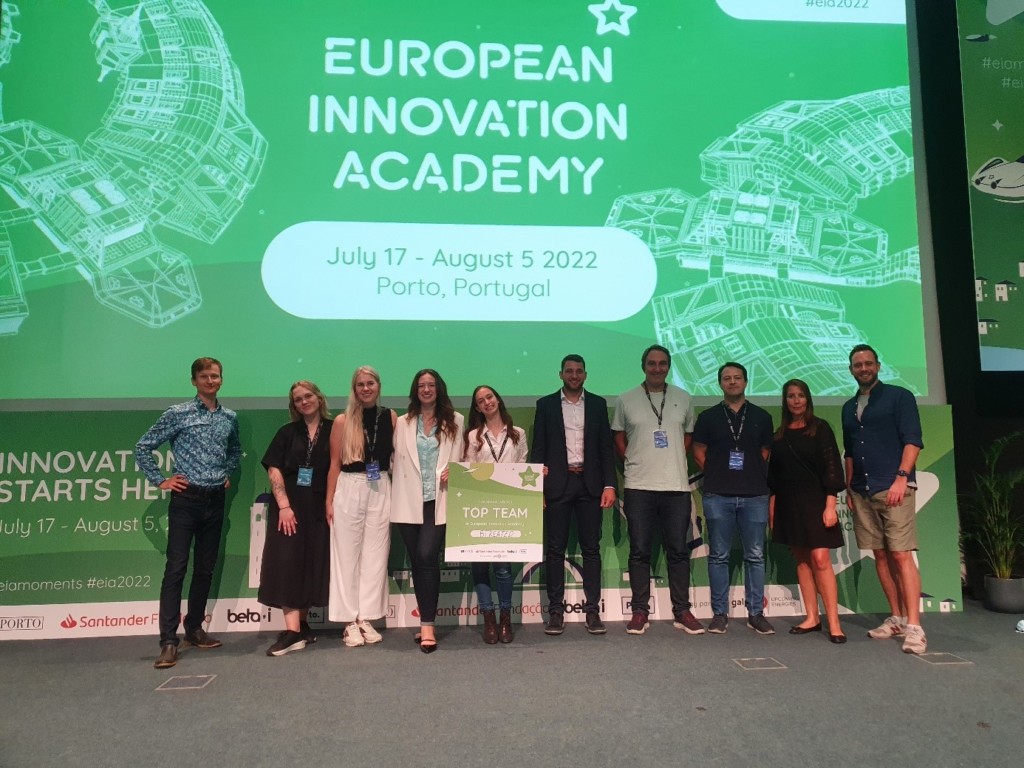 Taking the idea to the next level
I cannot be grateful enough to HUBS and the European Innovation Academy for the support and experience I gained during these weeks. I made friends from all around the world and created incredible memories. I discovered the city of Porto and got an insight into other cultures. I had the opportunity to talk with people from the biggest companies in the world and learn from them. This is once in a lifetime experience that will never be forgotten.
However, the story did not end after the program. We have weekly meetings with our team, pitching for investors and, at the moment participating in a StartupStartup accelerator program to enter the market with our product next year. Let's see what will happen!
The opportunity from HUBS to participate at EIA changed not just the way of our thinking but our lives.
And why do I say this?
3 months after the event ended, now we are part of Red Brick Accelerator program to make our idea more ready and so far we have pitched 4 times for Investors or participated on events where we got feedback from them. Now we know what we have to show them and we are working hard to get the first investments and put our product on the market next year. Also we have applied for several grants and connected to other Accelerator programs that are more Health Care focused so we can make the most out of it.
We also get a huge help from Platform6 and Tribe Tampere in through their connections and events and whenever we have any kind of questions are teachers and HUBS are always help us to find the answers or the right person. We are more than grateful for these supports!
If you have any questions about the event or want to know more before applying, feel free to contact us.
Thank you Mark for sharing your experience in EIA 2022!
Stories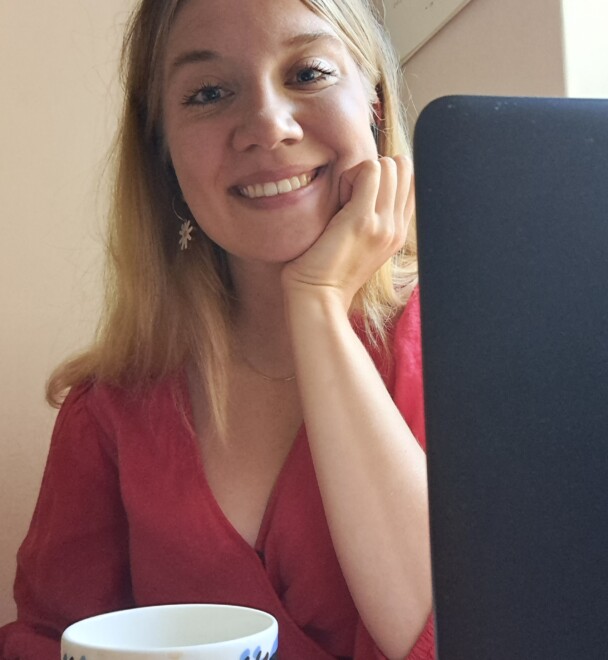 Ella has just founded her company, which offers onboarding services to companies. Read Ella's story from her first weeks as an entrepreneur!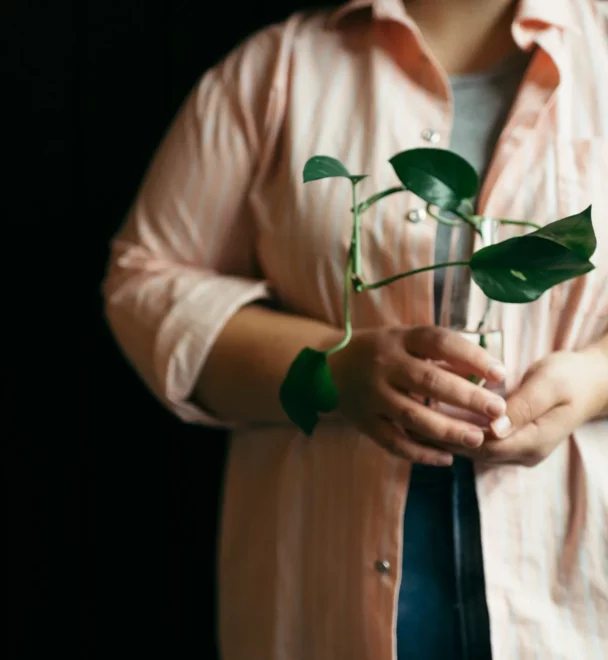 What's good about your job? Get to know what Jussi, Mona, Marianne & Minni think!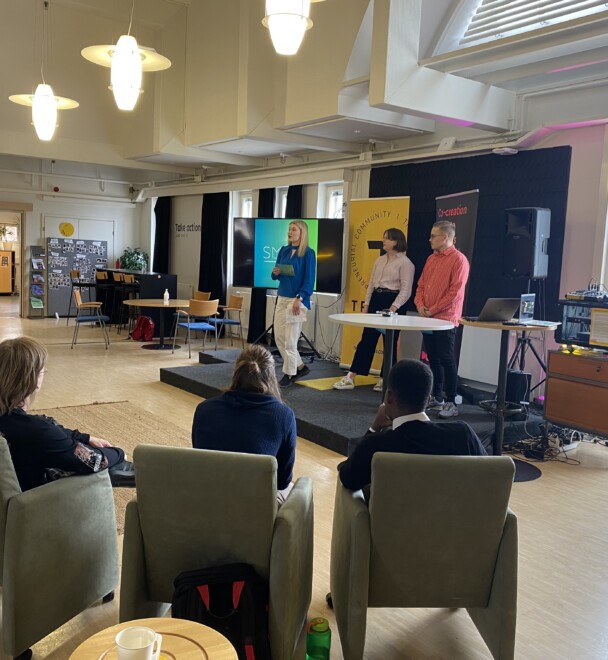 Get to know Pyry's and team Smårt's takeaways from HUBS' pre-incubator course!