Unlocking Your Potential: Skills Discovery Workshop 
HUBS co-working spaces, City Centre Campus (A0-hallway) | 26.10.2023 | 16-18
Do you ever find yourself pondering your unique skills? Do you want to unlock your hidden competencies?
HUBS is organizing a 2-hour skill workshop where you will
Learn proven tools and techniques to identify the extraordinary skills that already reside within you
Connect with fellow students in small, engaging groups, making this a dynamic, interactive experience
Spot your strengths and pinpoint areas for improvement based on your own life experiences
The skills you gain through this workshop will help you in
Crafting a CV that showcases your unique talents
Nailing interviews with Confidence
Pitching yourself at Events and Presentations
Achieving personal growth and development
Questions?
Contact person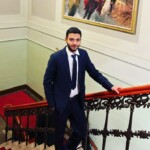 Maaz Khan
Growth Hacker
If you have any questions regarding this event, please contact Maaz!
When and where?
This workshop is a 2 Hour session.
Date: 26th October 2023
Time: 16:00-18:00
Venue: City Center Campus (HUBS Premises, A0-hallway)
How to Join:  We'd love to see you there, so sign up. This will help us ensure we have enough snacks and supplies for everyone.