Innovation Challenges (ECIU)
Design Thinking | Developing an idea | Multidisciplinary team skills | Problem Solving | Prototyping and Testing | Working life challenges
Innovation Challenges (ECIU) is all about solving real-life problems in multidisciplinary and international teams. You will learn about developing user-based solutions, utilizing multidisciplinary expertise and a whole bunch of valuable working life skills like critical thinking, creativity and successful teamwork.
This course is built to follow the design thinking process for innovation in practice and relies on self-guidance, a cornerstone of challenge-based learning. From the broad topics given by external clients, teams will form their own challenges based on their interests and real needs of the community.
Innovation Challenges (ECIU) is an international version of our own Innovation Challenges, which means that the course is open for learners in 14 different ECIU-universities around Europe, but we also hope to see learners from Tampere Universities!
The term innovation challenge refers to a practical project which enables you to develop your expertise and creativity, set goals and achieve them together with your team. You will gain first-hand experience of innovation projects and apply your acquired knowledge in practice.  
Learners will influence the learning outcomes they achieve by setting their own learning objectives and forming their own challenges. In addition to learners' individual learning outcomes we have listed certain learning outcomes that will be common to all of thoser who complete the course by applying team learning methods and the design thinking process.
Upon completion of the course, you will: 
understand the design thinking principles in the context of an innovation project 
be able to test ideas with different target groups
be able to consider the user perspective when resolving challenges
be able to work effectively in a multidisciplinary and international team
be able to challenge your own thinking and trust your team
receive feedback about your strengths, competencies and expertise
be able to pitch your solution in English
From October 25th to December 17th 2021.
Sessions on Mondays and Thursdays @14:15-16:00 (UTC+2, Finnish time).
To pass the course, you must demonstrate commitment to team learning and to the challenge you formed. You will be expected to team up with your fellow learners and generate potential solutions, plan the testing of ideas, and develop ideas into functional solutions. You and your team must propose diverse solutions to the client.   
The learner will receive a failing grade if they are not able to independently describe the importance and purpose of the course learning outcomes for his or her learning and that of the team. Similarly, the learner will fail the course if he or she does not contribute to the activities set out in the team's project plan and to resolving the provided challenge.   
The plaftform which enables learners, researchers, business, public organizations and citizens, to create relevant innovative solutions for real life challenges with real societal impact.
The ECIU University is an initiative of the European Consortium of Innovative Universities (ECIU alliance) that creates a ground-breaking and innovative educational model on a European scale. Through the initiative, ECIU alliance builds the ECIU University with open and flexible system, an entire new concept of the European University for the future.
The challenges
The City of Tampere has a strong brand image and manages to attract talents from all over the world, but face difficulties retaining them. Tampere is an attractive city of study, but only about 50% of university graduates live in the city a year after graduation. There are many factors which influence a talent's decision, but finding employment is one of the most essential. The challenge is to find appropriate methods to enhance international talent integration and identify activities, opportunities and other factors which would help talents to settle in and prosper in the longer term.
Check out the full description of the challenge here (opens ups on a new tab).
Operating a forestry machine is very demanding, users need to do thousands of big and small decisions every day, the cognitive load is so high that one night's sleep might not be enough for the operator to regain the productivity of the previous day but most importantly, over time it may have a negative effect on their well-being. At the same time the machines are getting more aware of their surroundings and more autonomous. In long run the forestry machines will become completely autonomous in easier environments, but operators will still be needed in more demanding ones, though their role will become more of help and supervision towards the machine. How can we evolve the human-machine interaction so that operators become machine guiders and supervisors? Most importantly, how do we guarantee the task is still meaningful and interesting enough for the human but not overly demanding? How can we harmoniously evolve the roles of humans and machine so that more people would see it as highly rewarding work, where the human is seen as respected advisor rather than a mere operator?
Check out the full description of the challenge here (opens up on a new tab).
Course information
Credits: 5 ects
Course code: NN00FO34-3002
Study method: Team work
Experience level: Practice your skills
Location: Online
Date: 25.10.–17.12.2021
Period: 2 / 2021-2022
Enrollment: 1.8.–17.10.2021
Organizer: HUBS & ECIU
Contact person
Contact person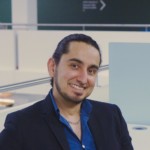 Raúl Berlanga Zarate
Coach
Experienced enthusiast of innovation, startups and multidisciplinary work. I love helping people get that "aha" moment and turning it into concrete tasks.
When the task at hand seems impossible, just shrug your shoulders and do it anyway!